Spoken Word, Poetry
Loud Poets
with Molly Naylor, Michael Pedersen, James Stedman and Dean Tsang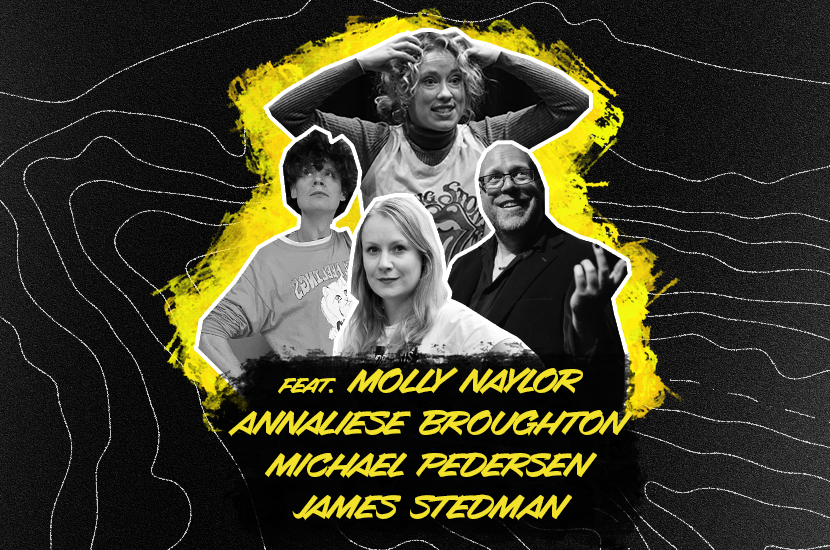 (Fri 6 Oct: 7:30pm)
Don't miss the next fantastic show from Scotland's best spoken word night! From laugh-out-loud funny, through the wonderfully surreal, to the thoughtful and emotional – Loud Poets continue to prove that Spoken Word has something for everyone. Featured in October are Molly Naylor, Michael Pedersen, James Stedman and Dean Tsang.
Molly Naylor is an award-winning writer and performer. She is the co-writer and creator of Sky One comedy After Hours. Her plays have been toured nationally and broadcast on BBC Radio 4. Her first graphic novel Lights, Planets, People! won the 2021 Broken Frontier award for best graphic novel. She wrote and performed the acclaimed solo shows Stop Trying To Be Fantastic, Whenever I Get Blown Up I Think Of You and My Robot Heart. Her third poetry collection is available from Bad Betty Press.
Michael Pedersen is a Scottish poet and author, and the current Writer in Residence at The University of Edinburgh. His acclaimed prose debut Boy Friends was published by Faber & Faber in 2022 and was a Sunday Times Critics Choice. He's unfurled three collections of poetry, the most recent being The Cat Prince & Other Poems, the title poem of which is currently shortlisted for the Forward Prizes for Poetry. Pedersen has won a Robert Louis Stevenson Fellowship and the John Mather's Trust Rising Star of Literature Award. His words have been published in the likes of The Poetry Review, New Statesman and the Guardian, and his work has attracted praise from voices as diverse as Stephen Fry, Kae Tempest, Irvine Welsh, Maggie Smith, Sara Pascoe, Shirley Manson and Jackie Kay.
James Stedman is a Leith-based poet, storyteller and playwright making heartfelt work with a gently comic, queer edge. He loves juggling the whimsy, rhythm and fairytale of the everyday and refracting the big emotions of life through it. (Re)discovering his love of poetry on moving back to Scotland, he regularly performs around Edinburgh including being Loud Poets Open Mic featured poet June 2023. His poems have been published by Open Book and Coin Operated Press. His poetry and storytelling show Joyfully Grimm will be part of the Scottish International Storytelling Festival in October.
Dean Tsang is a Lancashire born spoken word poet based in Edinburgh.
Due to unforseen circumstances, Annaliese Broughton is no longer performing at this event.
"Loud Poets is tearing up the landscape, bringing the ancient art to contemporary audiences – spreading mirth, giggles and talent along the way." - Corr Blimey
"Go listen to Loud Poets and hear them say the things you've been trying to say yourself." - Shane Koyczan
"There's a humour, poignancy and most of all confidence which serves to inspire." - The Scotsman
~~~~~~
Book for any five of Loud Poets 2023 Live Season for £35, a discount of £15! Just add a full price ticket for each of your preferred dates to the basket and your discount will be automatically applied at checkout. Please note that tickets are non-returnable and non-transferable including between dates.
---
The Loud Poets 2023 Live Season is funded by Creative Scotland and the National Lottery.
---
Booking Information
A booking fee of £1.25 is charged per transaction for online and phone bookings. If you are a Storytelling Centre Supporter please add a full price ticket to the basket. Your discount will be automatically added at checkout.
---