Music, Online Performance
Scotland Online: A Directory of Musicians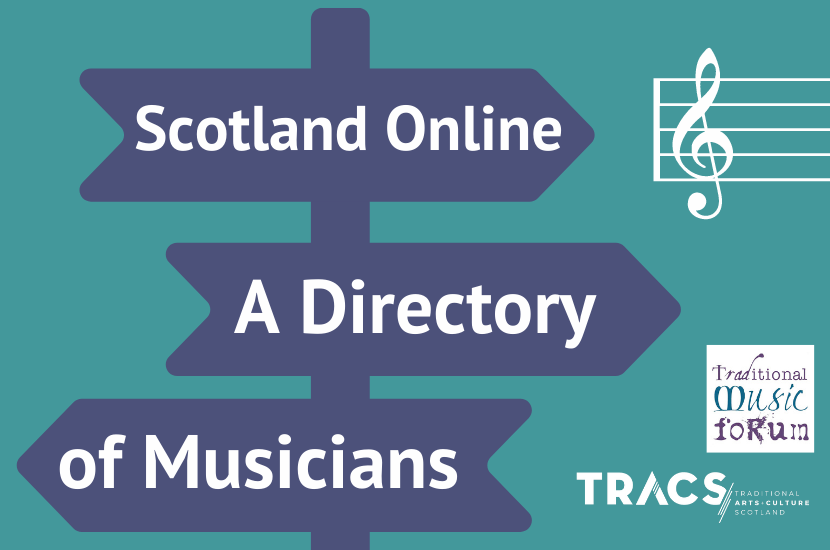 Ever wondered where you could find a list of Scotland's traditional musicians to explore, buy and support their music? Join us for an evening of music and conversation to celebrate the launch of Scotland Online: A Directory of Musicians, a new website with a comprehensive and ever-expanding list of musicians working and recording in Scotland.
This event features special pre-recorded performances by Rachel Hair & Ron Jappy, Maeve Mackinnon (with Ali Levack & Luc McNally) and David Foley & Jack Smedley (with Jenn Butterworth). Including a live Q&A with some of the performers after the event!
Presented by the Traditional Music Forum and TRACS, from the Scottish Storytelling Centre. Part of Edinburgh Tradfest 2021. This event is rescheduled from Fri 7 May.
---
This event is hosted on Crowdcast.
Please use the 'Book your Ticket' button below to register for this event. You will be directed to a registration page on Crowdcast's website where you can click to save your spot and Pay What You Can on a sliding scale.
Crowdcast will send you an email immediately with a link for you to confirm your registration. About ten minutes before the event, Crowdcast will send you a reminder with a link to join the event.
Book Your Ticket
---