Children, Live Indoor
It's in the bag!
Sam & Rosie's Christmas Adventure
'It's in the bag!' are an award-winning company who delight in taking children's imaginations on a storytelling adventure. Rhymes, drama, creative games and puppets bring the story to life.
Join us for one of two sessions of It's in the bag! Sam & Rosie's Christmas Adventure aimed at 0-2yr or 3-6yr olds. The 3-6yr old show is not suitable for under 3s.
10am (45min) 0-2 yrs
Join Sam and Rosie as they journey to the North of Scotland for Christmas with Granny & Grandad on the Island. With lots of well known nursery rhymes and songs, this is guaranteed sparkly Christmas fun for little ones.
11.30am (45min) 3-6 yrs
Sam & Rosie get a very special surprise when they're spending Christmas with Granny & Grandad in the Outer Hebrides. They end up on a magic adventure with Rudolph and Santa Claus too! Interactive storytelling with lots of Christmas songs, rhymes and cheer.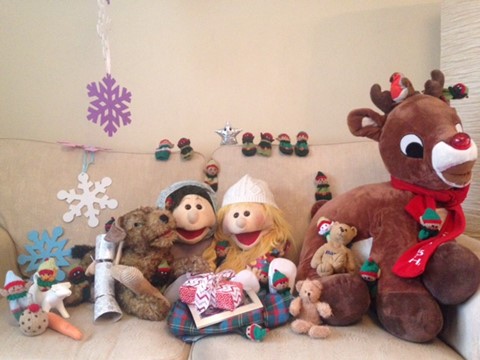 ---
A booking fee of £1.25 is charged per transaction for online and phone bookings.
---
Booking Information
This event will be in the Storytelling Court, capacity has been limited however seating is unallocated and without social distancing. Audiences are required to wear masks at all times, unless medically exempt.
---
Children
£6.00
11 December 2021
45 minutes
Scottish Storytelling Centre
Storytelling Court