Dance
Pomegranates
Celebrating International Dance Day (Part of Edinburgh Tradfest)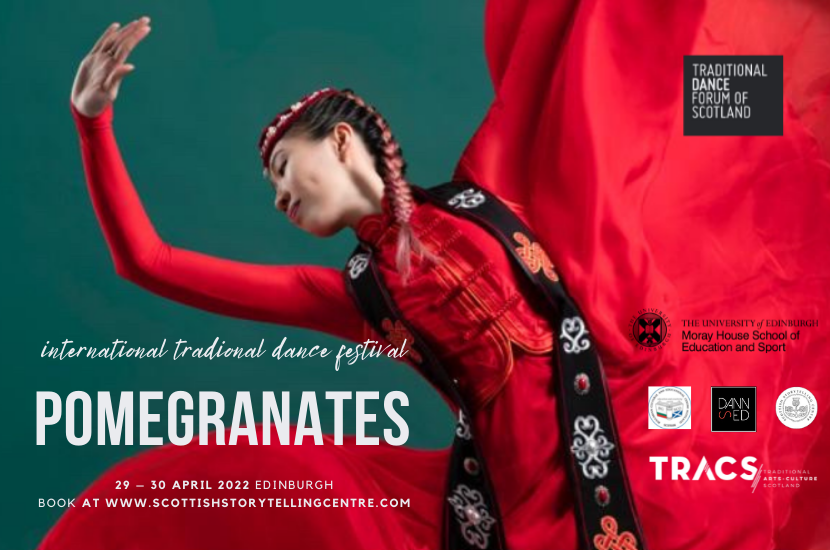 Pomegranates is a new mini-festival celebrating International Dance Day by exploring the primary ingredients of traditional dance the world over. Featuring Scotland-based traditional dance artists, musicians and storytellers from diverse cultural backgrounds, including Scotland, Greece, India, the Congo, Bulgaria, Spain, China, Mongolia, France, Japan and online contributors to be confirmed from Egypt, USA and Saudi Arabia.
Fri 29 Apr, 10am-4pm: All-day workshop open to all (at St Leonard's Land Dance Studio)
Sat 30 April, 5-6pm: TDFS AGM for TDFS Members only (at Scottish Storytelling Centre)
Sat 30 April, 6-7pm: Pomegranates Promenade open to all (at Scottish Storytelling Centre)
Sat 30 April, 7.30-10pm: Pomegranates Ceilidh open to all (at Scottish Storytelling Centre)
An initiative of the Traditional Dance Forum of Scotland (TDFS), this pilot edition of Pomegranates starts with a full-day workshop on Fri 29 April featuring teams of dancers, musicians, visual artists and storytellers at the St Leonard's Land Dance Studio, University of Edinburgh.
Pomegranates culminates on 30 April at the Scottish Storytelling Centre with a finale including a costume promenade show in the Netherbow Theatre with live accompaniment by Tom Oakes, one of the UK's top flautists and multi-instrumentalists. Expect also a headdress parade in tribute to Ukrainian traditional dance artists, presentations by invited guests, a book launch and spirited discussions followed by a lively ceilidh in the Storytelling Court.
Pomegranates festival is free to all TDFS members, so take advantage of this two-day extravaganza and rejoin or become a member today on the TDFS website.
Pomegranates festival is a TDFS project funded by TRACS – Scotland's National Network for Traditional Arts and Culture. Curated by Iliyana Nedkova, Eleanor Sinclair and Wendy Timmons.
With in-kind support from the Scottish Storytelling Centre and Moray House School of Education and Sport at the University of Edinburgh through the MSc Dance Science and Education and DansEd. Additional support by the Bulgarian Cultural and Educational Centre Scotland through the City of Edinburgh Council Flexible Fund.
Part of Edinburgh Tradfest.
Please note that a ticket purchased for Saturday 30th will cover attendance at both days' events.
---
A booking fee of £1.25 is charged per transaction for online and phone bookings.