Music
Roo & Neil: Homelands Tour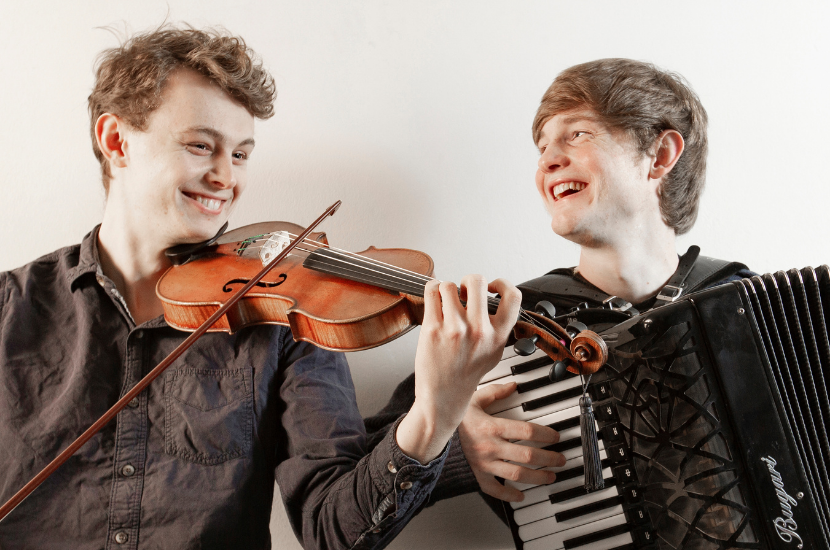 Roo Geddes and Neil Sutcliffe combine their shared experience across classical, folk and jazz to create original music for violin and accordion. Based in Glasgow, their compositions are inspired by landscape and people and the ways in which music can evoke a sense of place and community.
The pair first met as students of the Royal Conservatoire of Scotland's Juniors' School, aged 13. They quickly formed a close friendship and began collaborating musically throughout their studies until graduating from the RCS in 2021 with Honours of the First Class.
On their 2022 May Tour, they will be playing music from their debut album, Homelands, featuring new music composed over the last five years. The pieces form a tapestry of soundscapes representing the many physical spaces, landscapes and communities that form our concept of 'home'. Each composition tells the story of particular place that Roo and Neil have connected with and been inspired by. They are also an exploration of their own musical homelands; the styles, groups and experiences that have formed their playing up until now. Join us for an afternoon of musical frolicking, fun, and reflection on what 'home' is and how it might sound.
---
A booking fee of £1.25 is charged per transaction for online and phone bookings.
If you are a Storytelling Centre Supporter please add a full price ticket to the basket. Your discount will be automatically added at checkout.