Literature, Poetry
Figures of Speech: Friendship
with Michael Pedersen, Val McDermid & Kim Carnie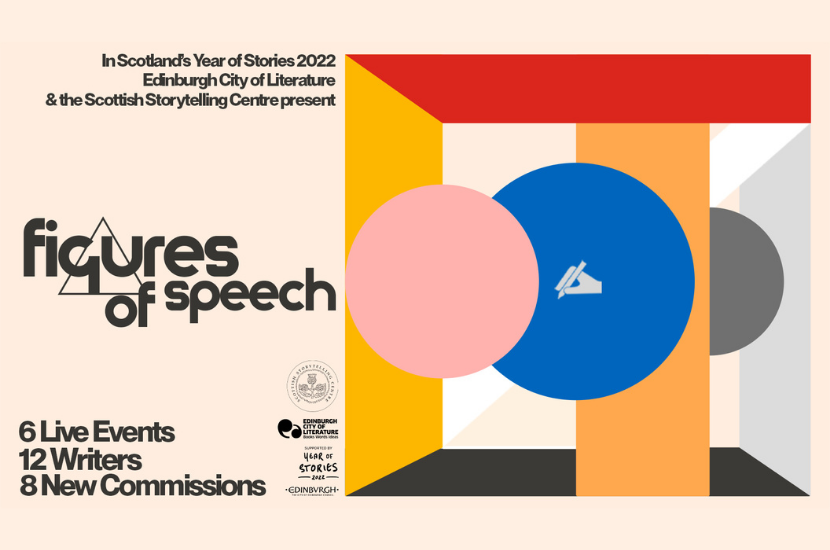 This month, our Figures of Speech experts will be talking Friendship in Scottish Literature. Our hosts Michael Pedersen and Val McDermid will take us on a tour through some of the most iconic friendships in Scottish literature, both on and off the page, exploring how they've captured our hearts and minds.
From Peter Pan and Wendy to Renton and Sick Boy, some of the most passionate and problematic friendships can be found in the pages of Scottish literature. Taking in old favourites, modern classics and hidden gems alike, we'll be diving into some of these curious contrasts and contradictions.
Gaelic singer Kim Carnie will continue the conversation with a performance of new work responding to the connections between friendship and writing.
~~~~~~~~~~
Figures of Speech is a series of events bringing together writers and artists to take us on a road trip through Scottish literature for Scotland's Year of Stories 2022. Covering six universal themes (Music, Friendship, Future, Love, Place, Big Ideas), each event explores literary blockbusters, hidden gems and modern classics.
Our expert guides will take us on a journey through Scotland's iconic books and stories, navigating the dazzling array of new voices, and presenting newly commissioned work by artists responding to each theme. Let us take you on a journey across the curious contrasts and contradictions that define Scottish literature.
All Figures of Speech events will be filmed and made available online a week later, and both the live and recorded events will feature live BSL interpretation from Yvonne Waddell, who is a Lecturer in Sign Language Interpreting at Queen Margaret University, Edinburgh. Each live event will be supported by a pop-up bookshop from Lighthouse Books, whose expert booksellers will be on hand to supply the must-read books to match the event.
Michael Pedersen is a prize-winning Scottish poet, scribbler, stitcher. He's unfurled two acclaimed collections of poetry (Polygon Books) with a prose debut, Boy Friends, out with Faber & Faber in July 2022. He won a Robert Louis Stevenson Fellowship, the John Mather's Trust Rising Star of Literature Award, and was a finalist for the 2018 'Writer of the Year' at The Herald Scottish Culture Awards. With work anthologised by the likes of Pan MacMillan and Canongate Books, his writing has attracted plaudits from voices as luscious as: Irvine Welsh, Jackie Kay, Stephen Fry, Shirley Manson & Charlotte Church.
Val McDermid is a celebrated and best-selling Scottish crime writer who has sold over 17 million books to date across the globe and has been translated into more than 40 languages. She is perhaps best known for her Wire in the Blood series, featuring clinical psychologist Dr Tony Hill and DCI Carol Jordan, which was adapted for television starring Robson Green and Hermione Norris. Her most recent TV series Traces aired in a BBC1 primetime slot in January of 2021, and a second series is currently in production, as is ITV's adaptation of Karen Pirie, based on Val's cold case detective of the same name. She is also an experienced broadcaster with regular and hugely popular appearances on a remarkable range of TV shows from Question Time to Have I Got News For You. She further added to her broadcasting credentials in late 2016 by captaining the winning University Challenge alumnae team, having previously become Celebrity Mastermind champion!
Award-winning singer and composer, Kim Carnie, has featured not only on some of the UK's biggest stages, but across the world via film and computer game soundtracks, including Netflix's Outlaw King, Black Mirror and The Bard's Tale. Since launching her solo career in 2018 with the release of her debut EP 'In Her Company', Kim has become one of the most sought-after singers and session vocalists that Scotland has to offer. Recently crowned Gaelic Singer of the Year at the MG Alba Trad Awards in 2021, Kim released her highly anticipated debut solo album, 'And So We Gather' in June 2022. Breathing 'light and beauty into every note,' Kim Carnie is most certainly 'a voice to watch out for' (The Living Tradition) 'A standout instrument of her generation.' (BBC Radio 2)
Scotland's Year of Stories 2022 spotlights, celebrates and promotes the wealth of stories inspired by, written, or created in Scotland, and will inspire new stories of Scotland to be shared. Figures of Speech is programmed and developed by Edinburgh City of Literature and the Scottish Storytelling Centre. Supported by EventScotland as part of the Year of Stories 2022.
---
A booking fee of £1.25 is charged per transaction for online and phone bookings. If you are a Storytelling Centre Supporter, please add a full price ticket to the basket. Your discount will be automatically added at checkout.