Literature, Poetry
Figures of Speech: Future
with Russell Jones, T.L. Huchu & Jeda Pearl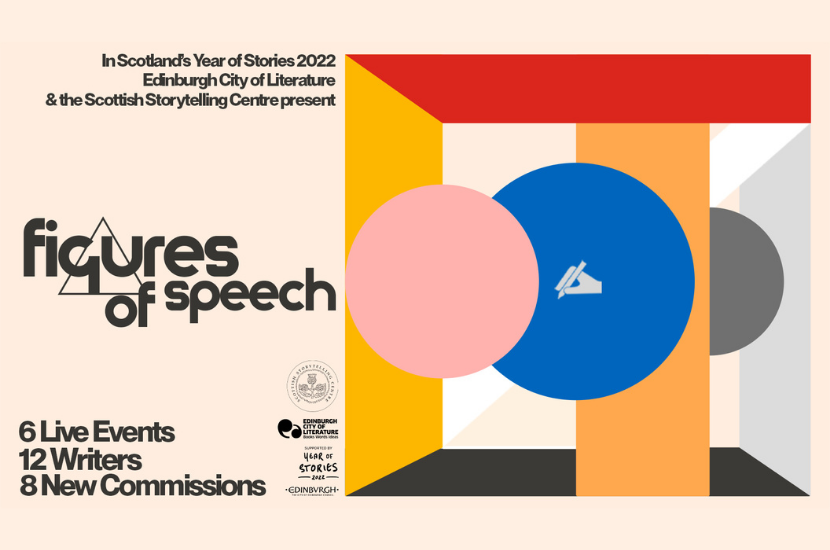 In the final event of this Figures of Speech season, we're travelling into the Future!
Our expert guides, writers Tendai Huchu and Dr Russell Jones, will discuss the impact of technological advancements on writing and reading processes of the past, present and potential futures. With reference to Scottish writers and artists including Edwin Morgan and Metaphrog, they will attempt to answer the question: is the future of Scottish literature a utopia, dystopia or something else entirely?
Writer and artist Jeda Pearl presents new work exploring an imagined evolution from storing our data in plant life to sentient biotech as archivists and storytellers.
~~~~~~~~~~
Figures of Speech is a series of events bringing together writers and artists to take us on a road trip through Scottish literature for Scotland's Year of Stories 2022. Covering six universal themes (Music, Friendship, Future, Love, Place, Big Ideas), each event explores literary blockbusters, hidden gems and modern classics.
Our expert guides will take us on a journey through Scotland's iconic books and stories, navigating the dazzling array of new voices, and presenting newly commissioned work by artists responding to each theme. Let us take you on a journey across the curious contrasts and contradictions that define Scottish literature.
All Figures of Speech events will be filmed and made available online a week later, and both the live and recorded events will feature live BSL interpretation from Yvonne Waddell, who is a Lecturer in Sign Language Interpreting at Queen Margaret University, Edinburgh. Each live event will be supported by a pop-up bookshop from Lighthouse Books, whose expert booksellers will be on hand to supply the must-read books to match the event.
Russell Jones is an Edinburgh-based writer and editor. He has published 3 science fiction novels, 1 graphic novel and 6 poetry collections, including sci-fi poetry. He is deputy editor and poetry editor of Shoreline of Infinity, a science fiction magazine made in Scotland, and has a PhD in Creative Writing with a research focus on the sci-fi poetry of Edwin Morgan.
T.L. Huchu's work has appeared in 'Lightspeed', 'Interzone', 'Analog', 'The Apex Book of World SF 5', 'Ellery Queen Mystery Magazine', 'Mystery Weekly', 'The Year's Best Crime and Mystery Stories 2016', and elsewhere. He is the winner of an Alex Award (2022), the Children's Africana Book Award (2021), a Nommo Award for African SFF (2017), and has been shortlisted for the Caine Prize (2014) and the Grand prix de l'Imaginaire (2019). "Our Lady of Mysterious Ailments", the second installment in his Edinburgh Nights fantasy series, is out in spring 2022. Find him @TendaiHuchu
Jeda Pearl Lewis is a disabled Scottish-Jamaican writer and poet. Inspired by existing in the 'in between', plus the hidden history, culture and folklore of her ancestral islands, her genre-splicing work often explores the intersections of identity, belonging, secrecy and survival. In 2019, Jeda was awarded Cove Park's Scottish Emerging Writer Residency and shortlisted for the Moniack Mohr Emerging Writer Bridge Awards and, in 2018, was selected for Written & Arvon's first BAME writers course. She's Co-Director for the The Scottish BPOC Writers Network, an advocacy and professional development organisation for Black and POC writers, and a member of Crip Collective and Hannah Lavery's Writers of Colour Group.
Scotland's Year of Stories 2022 spotlights, celebrates and promotes the wealth of stories inspired by, written, or created in Scotland, and will inspire new stories of Scotland to be shared. Figures of Speech is programmed and developed by Edinburgh City of Literature and the Scottish Storytelling Centre. Supported by EventScotland as part of the Year of Stories 2022.
---
A booking fee of £1.25 is charged per transaction for online and phone bookings. If you are a Storytelling Centre Supporter, please add a full price ticket to the basket. Your discount will be automatically added at checkout.
Literature
£12.00
22 July 2022
75 minutes
19:30
Scottish Storytelling Centre
Netherbow Theatre
14+