Literature, Music, Online pre-recorded
Figures of Speech: Music (Online On-Demand)
with Nicola Meighan, Arusa Qureshi & Katie Ailes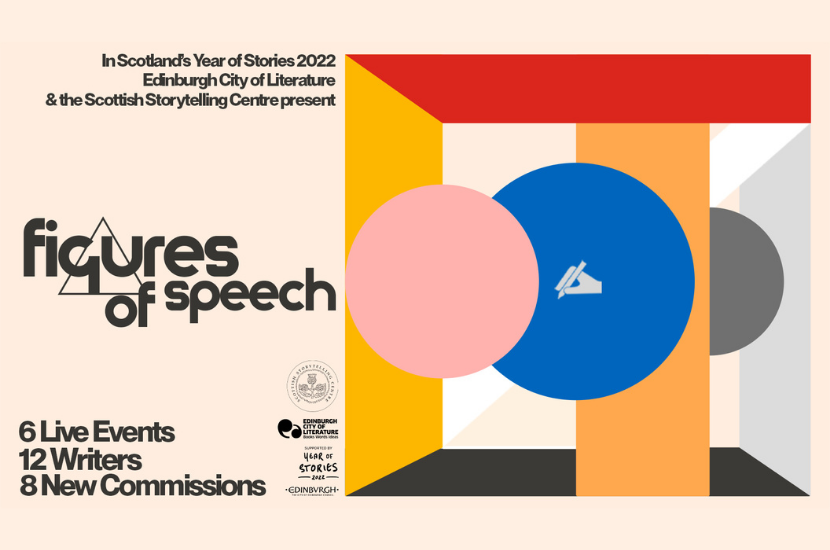 Enjoy a recording of May's Figures of Speech event, filmed live at the Scottish Storytelling Centre and available to view for one week. This recording features live BSL interpretation.
Figures of Speech is a series of events bringing together writers and artists to take us on a road trip through Scottish literature for Scotland's Year of Stories 2022. Covering six universal themes (Music, Friendship, Future, Love, Place, Big Ideas), each event explores literary blockbusters, hidden gems and modern classics.
Our expert guides will take us on a journey through Scotland's iconic books and stories, navigating the dazzling array of new voices, and presenting newly commissioned work by artists responding to each theme. Let us take you on a journey across the curious contrasts and contradictions that define Scottish literature.
Figures of Speech: Music
This May we're kicking off the Figures of Speech series with a look at Music within Scottish Literature.
Nicola Meighan and Arusa Qureshi will be our expert guides, taking us on a journey through Scotland's iconic song lyrics and books touching on music, exploring the connections between the worlds of writing and music.
This conversation could journey from John Purser's seminal 'Scotland's Music', via Ian Rankin, to the Roddy Woomble curated 'Ballads of the Book'. From the song lyrics which stop us in our tracks, to books just out and breaking new ground, we'll be exploring the curious contrasts and contradictions that define Scottish writing when music and words come together.
Poet and dancer Katie Ailes will also bring something new to the stage, with an original poetry and movement commission which explores the interplay of words and music.
Nicola Meighan is a freelance music journalist and broadcaster based in Scotland. She writes, or has written for, publications including The Herald, The Sunday Herald, Q Magazine, MOJO, Time Out, The Big Issue, The List, The Quietus, and Plan B. She regularly presents music shows – and reviews arts and music – on BBC Radio Scotland, and has contributed to BBC Radio 1, BBC 6 Music and BBC Radio 4. Nicola also has a previous life working in the music industry, alongside acts such as Nick Cave and the Bad Seeds, Depeche Mode and Robyn.
Arusa Qureshi is a writer and editor based in Edinburgh, and a passionate advocate for diversity and accessibility within arts and culture. She is the former Editor of The List and writes mostly about music, most recently Flip the Script – a book about women in UK hip hop, published by 404 Ink. Her work has appeared in the Scotsman, Clash, The Guardian, GoldFlakePaint, Time Out, NME and more. In 2017, she was shortlisted for PPA Scotland's Young Journalist of the Year award and was also the winner of the Allen Wright Award for quality writing in arts journalism. She is on the board of the Scottish Music Centre and is a Trustee of the Saltire Society.
Dr. Katie Ailes is a poet, researcher, and educator focusing on performance poetry. She works as a producer with I Am Loud Productions and has co-devised and performed shows with them across the UK. Her poetry has been published widely and her poem 'Outwith' was chosen as one of the Scottish Poetry Library's Best of the Best Scottish Poems in 2019. Katie's PhD focused on the performance of authenticity in contemporary UK spoken word. In addition to her work in poetry, Katie is also a classically trained dancer and choreographer interested in the intersection between speech and movement.
Scotland's Year of Stories 2022 spotlights, celebrates and promotes the wealth of stories inspired by, written, or created in Scotland, and will inspire new stories of Scotland to be shared. Figures of Speech is programmed and developed by Edinburgh City of Literature and the Scottish Storytelling Centre. Supported by EventScotland as part of the Year of Stories 2022.
Literature
£0.00
20 May 2022
75 minutes
Scottish Storytelling Centre Online
Online
14+