Music, Song, Tradfest
North Atlantic Song Convention 2023
Celebrating & Exploring Our Folksong Traditions (Part of Edinburgh Tradfest)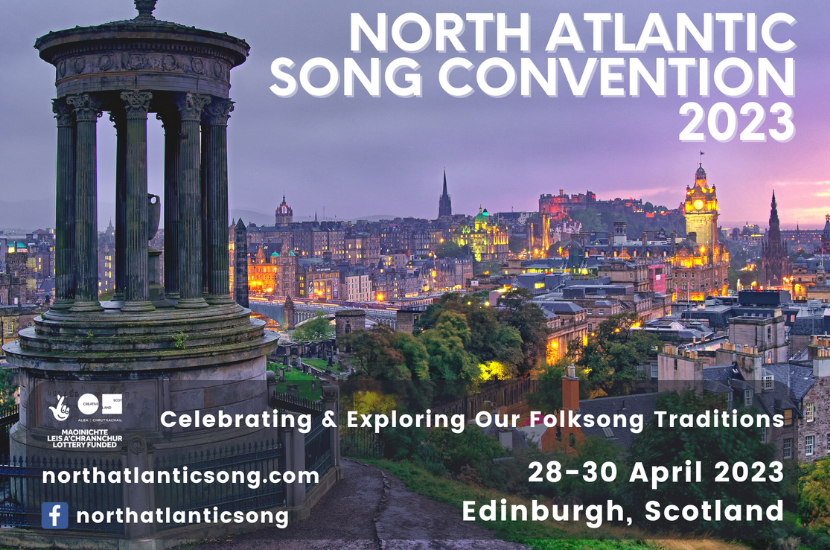 (Fri 28 - Sun 30 Apr)
We are pleased to welcome the second North Atlantic Song Convention to the Scottish Storytelling Centre from Fri 28 - Sun 30 April 2023. This exciting event will bring together singers and supporters from around the world to celebrate and learn about our rich song traditions.
The convention will feature a variety of talks, workshops, panels, song circles, concerts, and more, all designed to support, encourage, and develop three primary audiences: grassroots community and non-professionals, academics, educationalists, archives, and professional artists and industry.
Guests include:
Margaret Bennett, Esbjörn Wettermark, David Francis, Emma Björling; Ditte Fromseier, Kongero, Tom Besford, Brian Ó hEadhra & Fionnag NicChoinnich, Seán Dagher, Alice Jones & Bryony Griffith, Scott Gardiner, Catriona Hawksworth (BIT Collective), Grace Stewart-Skinner and Christina Stewart.
The ticket price is for attending the whole Convention, however if you would like to only attend one or a selection of events then you can make a payment of £7.50 per event to the NASC Paypal account here. You then need to email them. (northatlanticsong@gmail.com) to let them know what event you will attend.
For more details and a full schedule please visit the North Atlantic Song website.
~~~~~~~~~~
This event is part of Edinburgh Tradfest, which celebrates the past, present and future of traditional music and traditional arts. It features performers from across the spectrum from age 13 to 80-something, from Grammy-winners to homegrown superstars; visiting virtuosos to emerging talent; tunes with centuries of tradition to new writing. Edinburgh Tradfest is organised and run by the Soundhouse Organisation and supported by Creative Scotland and the William Grant Foundation.
---
The North Atlantic Song Convention is grateful for the support from Creative Scotland Heritage Lottery Fund and the Traditional Music Forum as member of TRACS (Traditional Arts & Culture Scotland).
---
Booking Information
The ticket price is for attending the whole Convention. Please select a Friday ticket which will cover the whole weekend. A booking fee of £1.25 is charged per transaction for online and phone bookings.
---