Dance, Tradfest, Film Screening
Pomegranates Day 2
Festival of International Traditional Dance (Part of Edinburgh Tradfest)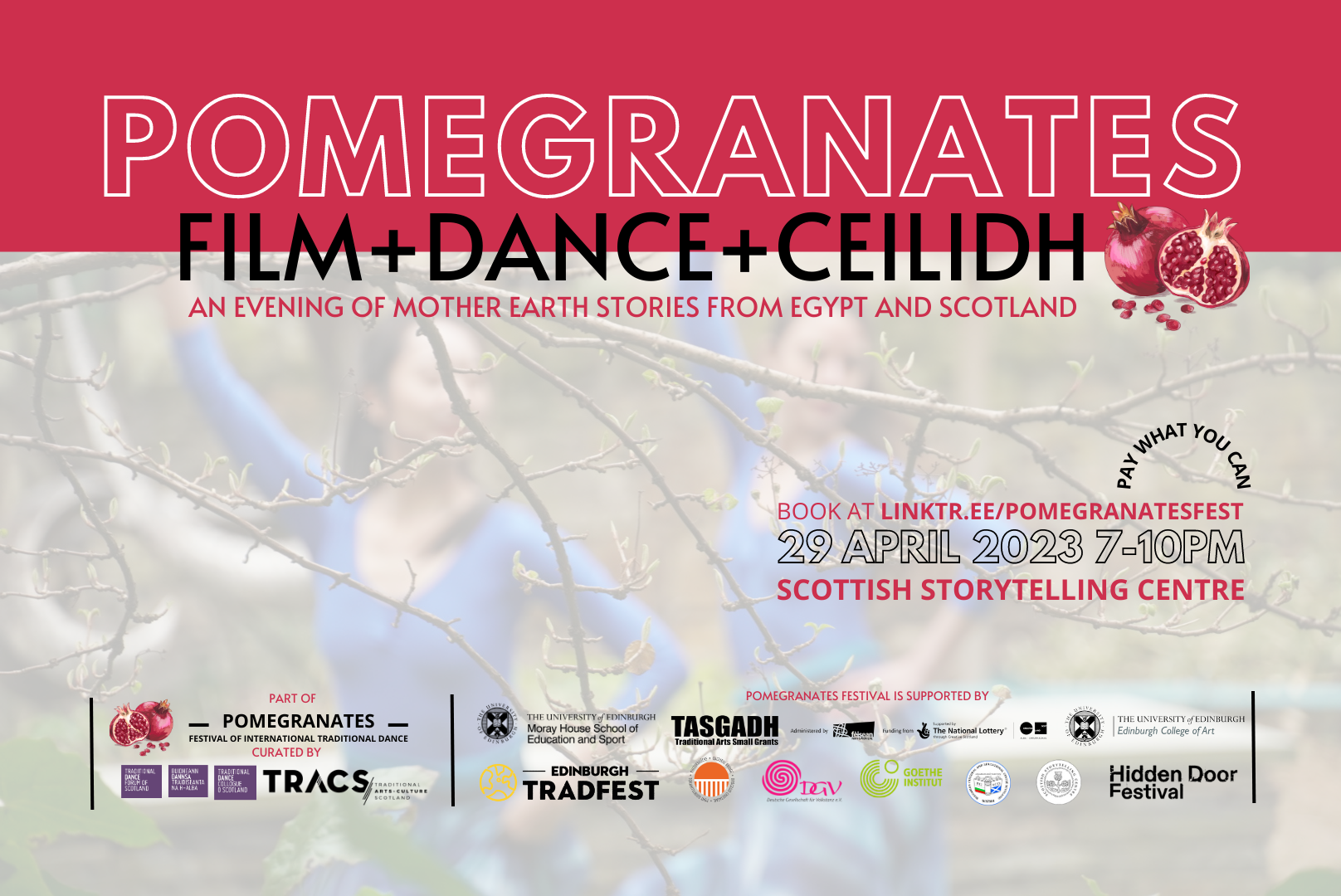 (Sat 29 Apr: 7pm)
Join us for an evening of world premieres on screen and stage before you hit the dancefloor.
Start in the Storytelling Court with a curatorial guided tour by Iliyana Nedkova of Duets, the first solo exhibition in Scotland by the Pomegranates 2023 festival artist-in-residence Gabriel Schmitz.
Then take your seat at the Netherbow Theatre for the world premiere of two new productions. Set in a near future world, a family escapes their homeland in the South ravaged by the impact of climate change and extreme weather. Enter climate refugees Isis, Beira and Bride whose lineage stretches back to their namesakes, the Egyptian and Celtic Goddesses who are mothers and daughters of Earth. Featuring an original score and visuals, beautifully compelling and vital pieces of storytelling and movement for the screen and the stage; To Begin the Dance Once More, a film screening starring dancers Yuxi Jiang and Liron Blajwajs and Dances with Ouds and Fiddles, a staged production for three dancers and two musicians, including Jon Bews. Stay for a post-show Q&A with cast and crew, including the award-winning Canadian filmmaker Marlene Millar.
Finally, celebrate these world firsts by taking to the dance floor at the Storytelling Court for a festival ceilidh dancing with Terrific Trouble Ceilidh Band and dance caller extraordinaire Pia Walker.
~~~~~~~~~~
We welcome the return of Pomegranates, the annual springtime festival sowing the seeds of international traditional dance. Initiated and curated by the Traditional Dance Forum of Scotland, Pomegranates will once again mark UNESCO's International Dance Day (29 Apr) across Edinburgh.
Pomegranates 2023 Festival at a glance
Day 1 (Fri 28 Apr): Workshops (St. Leonard's Dance Studio) & Live show/Exhibition (SSC)
Day 2 (Sat 29 Apr): Live show, Film & Ceilidh (SSC)
Day 3 (Sun 30 Apr): Live Show & DJ Dance Night (SSC)
~~~~~~~~
All press and queries, please contact Iliyana Nedkova, Traditional Dance Forum of Scotland Curator at info@tdfs.org
---
Pomegranates 2023 would like to acknowledge the support of TRACS and British Council, alongside the continued partnership of Edinburgh Tradfest, Scottish Storytelling Centre, Moray House School of Education and Sport at the University of Edinburgh and Goethe-Institut, Glasgow.
---
Booking Information
Tickets are available below on a Pay What You Can basis, with a suggested amount of £15 per day.
---